Flower Gardens
March 27, 2013 By Andre Leave a Comment
Lonicera—The Honeysuckle
Many people associate the word
with the old fashioned, somewhat large shrub that tends to be an aphid magnate,
hence the Honeysuckle Aphid.
Vine Honeysuckles such as the
Dropmore Scarlet and the Mandarin may come to mind and while they are not as
pest problematic, neither are they reliably hardy in Zones below 4 or 5.
Clavey's Dwarf was a landscape
preference for many years and they are indeed a nice, smaller, well-behaved
shrub that are most loved when in bloom.
It's the relatively new kid on the
block that really deserves a place in the garden.
Andre's GardeningLonicera caerulea edulis–The
Honeyberry.
This shrub comes to us from E.
Siberia and is worthy on so many levels. The word Siberia denotes tough, hardy
and enduring. L. edulis delivers, even if you are not interested in the
edible fruit. Without cross pollinators such as BlueBerry (TM) and Cinderella
(TM), the elongated blue coloured berries are rather inedible raw, but the
shrubs attributes go well beyond that. In Zone 2b they flower earlier than
Lilacs and early arriving Hummingbirds love the frilly white flowers. At a
mature HT of 4ft x 3ft W, they are happy in full sun to part shade, are disease
and pest resistant, drought tolerant once established and ask only that you not
plant them in wet, poorly drained areas. One fan who has grown these in
large containers for several years can attest to their durability given
adequate winter protection of straw and snow cover. This is literally a test of
hardiness in Zone 2b and an endorsement based on experience.
January 12, 2013 By Andre Leave a Comment
There are many ways that you can add interest to a garden. Anything that becomes a focal point will add interest and that can range from garden sculptures to the types of plants you choose.
Adding block planting of a particular specimen can become a focal point in the garden. Even adding areas of variegated foliage can create a focal point in the garden.
Seats are another item that can add interest to the garden and additionally they can offer a nice place to rest and relax while you admire your work.
Mirrors that are strategically placed can enhance the garden in many ways. They can bring reflected light to dark corners of the garden. They can also give the impression that the garden is bigger or alternatively they can give the impression that the open space is bigger.
Placed at various angles, mirrors can add a lot of fun and interest to a garden and help to lead a visitor on to other areas.
Using hedges can also add interest to the garden while offering protection to the plants. Hedges are also an excellent way to gain privacy without feeling closed in.
Water features are a favorite for many people and the sound of running water in the corner of a garden can add an atmosphere of calm and relaxation.
Water features can also be good for the birds in the garden particularly in the summer months when they might find it difficult to find water lying around to suit their needs.
As with sculptures, stones, rocks and pebbles can add interest and offer areas where you can walk even when the surrounding ground might be too wet. Shells also make a good cover on the ground for paths that can remain dry in the wet season.
There are so many different things that you put in your garden to add interest. Everything from old cartwheels to wind chimes, aviaries or anything else you can imagine.
Gardening
November 27, 2013 By Andre Leave a Comment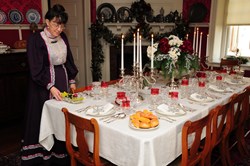 (PRWEB) November 27, 2013
Tis the season in the Valley Forge and Montgomery County area, when the historic sites, villages, inns, malls and more are dressed in their holiday best.
Pottsgrove Manor, once the Pottstown summer home of ironmaster John Potts, revives the Tudor tradition of celebrating Twelfth Night through January 12. The manor is bedecked in a full array of holly and ivy, and on December 8, visitors can witness a mid-winter celebration in full swing. Costumed interpreters demonstrate music and dancing in the parlor and a bustling open-hearth kitchen.
The former home of Pennsylvania Governor Samuel Pennypacker, Pennypacker Mills is wrapped in grand Victorian holiday style through January 5. Swirls of ribbons, candles, wreaths and greens fill this three-story Colonial Revival mansion. New this year is access to the kitchen and a servants quarters. The open house on December 14 features Santa, costumed interpreters and a bell choir.
In the Pennsylvania Dutch tradition, ingrained in much of Montgomery Countys heritage, Belsnickel is a fur-clad gift-bringing figure who arrives in advance of Santa to check up on children and their behavior at this vital time of year. Peter Wentz Farmstead revives the tradition on December 7 as part of its candlelight tours, which also include colonial music, seasonal decoration and holiday foods.
In the dark of November 29, hundreds of jolly celebrants will gather in Skippack Village to ooh and ahh at the sight of the towering Christmas tree, lit from tip to trunk. The happy highlights continue through December 21, in a series of Illuminaire nights when the sidewalks and pathways flicker in candlelight. On December 3, Skippack Village launches another first in its holiday traditions: a public menorah lighting.
At the John James Audubon Center at Mill Grove, the first home of the French-born artist/naturalist, the natural beauty of an outdoor December is brought inside to decorate. On December 8, the centers live owls will make it clear whos ready for the holidays. Cider, cookies, music and a scavenger hunt complete the afternoons fun.
The Holiday Garden Railway at the Morris Arboretum chugs to life until January 5. Thousands of sparkling lights adorn a miniature village surrounded by a quarter mile track with model trains zipping in and out of tunnels, over bridges, and through the woods… all outdoors in the winter garden. The quarter-mile track has 15 different rail lines, two cable cars and nine bridges.
The grandiose Glencairn Museum becomes a centerpiece for the sacred celebration of Christmas. Visitors have until January 5 to view a fascinating display of nativities from around the world. The open house on December 8 adds refreshments and music to the mix, and a Christmas sing-along on December 17 invites visitors to belt out a hearty hark to all herald angels.
And speaking of singing, the carolers crafted by the artisans at Byers Choice Ltd. are as distinct as they are traditional: lovingly created with sparking eyes and mouths open in song. Within the companys Olde Curiosity Shoppe, open daily until 5 p.m., these festive figurines can be seen completing their Christmas shopping, skating on a frozen mill pond and acting out holiday traditions from around the world.
Valley Forge Convention and Visitor Bureau President Bill Fitzgerald sums up the MontCo merriment: Because our heritage draws from so many different cultural backgrounds, we offer a holiday season that has no equal in the area. The celebrations, decorations, lights, foods, dancing and other fun events are as unique as the various traditions that they reflect. Best of all, our local accommodations and restaurants had prepped down to the smallest detail to make sure that visitors have a spirited and memorable holiday season.
For information about celebrating the season in the Valley Forge and Montgomery County area and visiting for a day, an overnight or an extended weekend, see our website.
Find More Gardening Press Releases
November 20, 2013 By Andre Leave a Comment
Tourists go hungry as vegetable prices force Manali hoteliers shut kitchens
MANALI: Tourists visiting Manali will find it tough to get food as several hotels here have shut their kitchens due to the rising prices of onion, tomato, potato, cabbage and other vegetables. Several restaurants and dhabas are not even serving onion …
Read more on Times of India


Cheer for consumers as vegetable prices fall on increased supplies
Vegetable harvesting is progressing across the country with Maharashtra, Gujarat, Madhya Pradesh and Rajasthan catering to major centers across the country. New crop from Himachal Pradesh, Uttar Pradesh and Haryana have also started being harvested …
Read more on Economic Times


November 13, 2013 By Andre Leave a Comment
To get this recipe with measurements: http://www.LauraintheKitchen.com PREVIOUS EPISODE: http://litk.us/previous NEXT EPISODE: http://litk.us/next Official F…